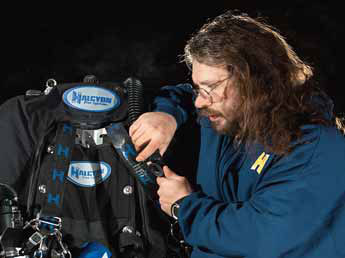 Viktor Lyagushkin
National Geographic photographer, official Nikon photographer, Subal Team Pro photographer, winner of many international photo contests, his exhibitions were held in many cities of Europe and America.
Viktor has dreams of finding a dragon. A real one – alive, fiery, and rattling its scales with each step. He himself concedes totally different reasons for taking up cave diving as a hobby, but they are only partly true. He is no madman. He knows that times have changed, and dragons have disappeared forever. But a dragon might still possibly survive in some remote, lonely cave! Perhaps, he already has, but does not tell. Viktor is also an NAUI Instructor, a journalist, a designer, a professional underwater photographer, and winner of international photo competitions.
Bogdana Vashchenko, MSc
Where do you think it would be easiest to meet a graceful girl with blue eyes and a charming smile, and fond of diving? Well, certainly in a hotel in exotic country under the hot tropical sun.But some girls like it cool. At least, one of them does.
Journalist, cave diver, technical diver. She has co-authored a book on Russia's Orda Cave system and collaboratively produced the Princess of Whales and the Blue Lake Awareness Projects.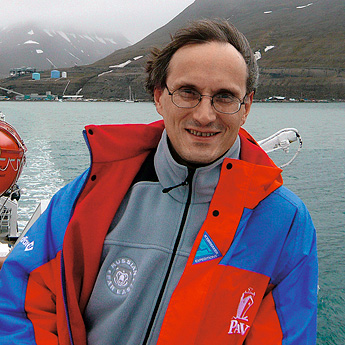 Gleb Chernyavsky
Gleb is a person who insists that he is not engaged in diving, but the diving nevertheless engages him. It is fate. His first bout of unemployment led him to the position of literary editor for the magazine "The Underwater Club". Then, curiosity prompted him to try his hand at running a magazine. He became an editor-in-chief of "DiveTek" magazine. And then Orda cave with its mystical force invited him to make a book of it. he says that he simply loves the nature of Russia and wants his love to be shared by the whole world. I think he is lying. It is fate.
Natalia A. Avseenko
World-Champion Freediver who won a title of a World Champion title in 2006 and 2008; in 2008 set a world record in the most difficult but puriest freediving discipline «Constatnt Weight No Fins». At the moment of that record she had about 50% of her regular vital lung capacity due to the lung squeeze which she had experienced 6 months before. The episode proved that freediving is more about mental aspect rather than physiological one. Natalia is practising yoga and meditation and thinks that freediving is dynamic pranayama in the water. Meditation and yoga helped her to implement an incredible project at the Polar Circle in Russia. She stayed under the ice at the White Sea (the water temperature was -2C) with two Beluga Whales for 12 minutes. In December 2011 she set an inofficial world record in the waters of the cold Blue Lake (Balkaria, Russia, +9 C) and freedove to 61 m wearing only a monofin. At the moment she is more focused on teaching freediving and helping people to find inner-harmony through the water and breathing. She is running a freediving and yoga school with its base in Moscow but with this mission she is travelling all over the world. Natalia is an AIDA (Association for Apnea Development) master-instructor and SSI freediving Instructor Trainer. Also Natalia is known as a specialist in Intercultural Communication (Doctor of Communication) who had been running an academic life at Moscow Sate University for 10 years and had more than 100 academic works at that field.
Nikolai Maksimovich
Prorector for Scientific Work at Perm State University. Candidate of Geological/Mineralogical Sciences. A person who knows everything about karst.
Igor Galayda
Director of Research Center "Blue Lake", champion of Russia in deep diving, UW archaeologist
Roman Prokhorov
champion of Russia in deep diving, UW archaeologist
Kirill Ivanov
videographer
Sergey Gorpinyuk
Trimix Instructor-Trainer, Trimix Instructor CCR Inspiration, Full Cave Instructor, Freediving Instructor. Training Agencies: IANTD, CMAS
Share this