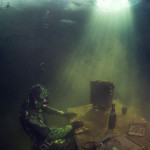 This is Tver Quarry near the city of Tver, Russia.
The Nikon company is working on educational spot with Viktor and they needed some underwater scene. The closest site with water transparent enough was Tver Quarry.
Viktor had found this was a great opportunity to test his new Nikon D4s in his
new Subal housing
and asked freediver Igor Azhykin to come over and be his model.
Now you see the result.