Orda Cave is the most extended underwater cave in Russia, the second in Eurasia, with regards to length, and the world's greatest underwater gypsum cave. It has status of All-Russia natural monument. In 2008 Orda cave was applied to be included in the List of UNESCO World Natural Heritage. Unique beauty of Orda cave was marked by the world-famous British cave-diver, cave-diving instructor of the Royal court of Great Britain and Martyn Farr.
Orda Cave Photo Gallery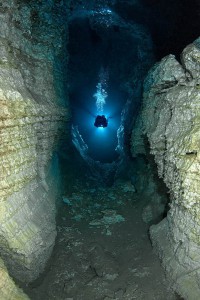 For the majority of people Russia is distant and strange country, terra incognita. And Orda cave is equally weird for Russians. This gypsum cave is unique – low water temperature (+5C), huge volumes of underwater passages and marvelous visibility. It is the biggest gypsum cave in the world.
Only couple hundreds of people saw this exceptional wonder of nature. And it was photographed by nothing more than dozen. And nobody pictured this wizardly palace of gypsum and water as we did.
To see Orda Cave Photo Gallery click here
Orda Cave Book
Orda Cave Awareness Project Book (size 235х275 mm, full color, hard cover, 160 pages, circulation 3,000 copies, with Russian and English text). Besides pictures, the book contains interesting articles: Orda Cave's origin and history, the discovery of the cave, ITW's with the cave pioneers. The technique of cave diving and tech-diving education are also discussed. Famous cave-divers who did Orda Cave: Lamar Hires, Pascal Bernabe, Reggie Ross – shared their personal experience.
Orda Cave Awareness Project second Russian edition
Orda Cave Exhibition
It is not just a photo exhibition but a cave with walls, covered with black velvet, and
photos with cold temperature lightening, so visitor feels himself as in a real cave.
Orda Cave exhibition successfully visited many cities and countries, Moscow (Golden Dolphin Show, Russia) and Kiev (Silver Shark Festival, Ukraine), Marseille (World Underwater Image Festival, France) and Kiel (GUE Conference, Germany), Gdynya (BalticTek, Poland) and many others.
You may find additional info on Orda Cave Awareness Project clicking here