This year PHOTOTEAM.PRO took part in the Moscow Dive Show 2019 with the exhibition "Until the Ice Melts."
The pictures presented on it are not the complete exposition, but only a part of the world's first photographic exhibition under the ice. This is not an exaggeration and not a metaphor – from Moscow the works by Viktor Lyagushkin will go to the Arctic Circle and will be put under the thick ice sheet of the White Sea.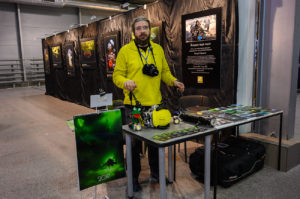 Under the Ice exhibition is part of a large project to document the animals of the White Sea in their natural environment named Fantastic Creatures and Where to Find Them.
On the final day of the Dive Show, Viktor Lagushkin delivered a lecture on the main stage of the event, speaking in detail about the project. "We live at a time when climate change and the melting of the Arctic ice become increasingly threatening phenomena, – says the photographer, – My goal is to draw public attention to these problems, and capture the amazing creatures of the White Sea while they still exist."
The general sponsor of the Under the Ice exhibition is Nikon, partner – the Dive Centre Arctic Circle.