From February 6 to 9, 2020, the annual traditional diving exhibition Dive Show was held in Moscow in Sokolniki. There is so much to tell about it that I did not dare to sit down to write this report for a long time. Well firstly, the most important thing is exhibition
Until The Ice Melts
For the first time our exhibition is presented in such an amount – 20 the best works from the White Sea by Nikon Ambassador and our team leader photographer Viktor Lyagushkin.
In addition to the exhibition, we had a booth where we could chat with friends and fans, and get to know better with other visitors to the exhibition.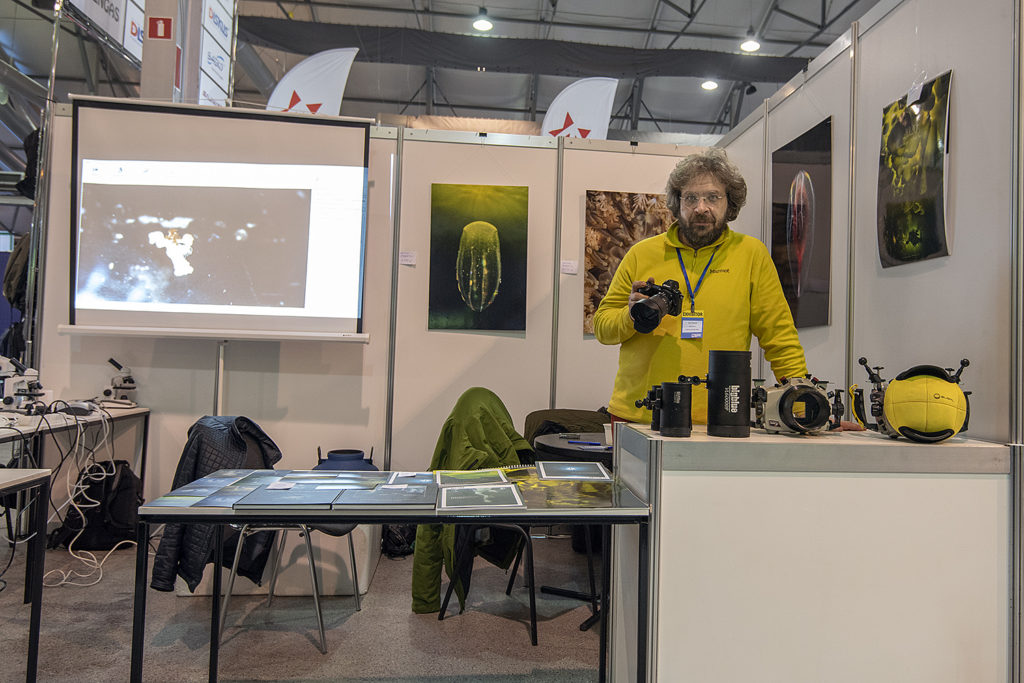 Yannig Charles from France, representing Big Blue, the new sponsor of our PHOTOTEAM.PRO team became the main guest of our booth. Big Blue produces great lights for underwater shooting, and we look forward to a long partnership with this company.
Next to our exhibition was the laboratory of the Arctic Circle, with a marine aquarium in which you could observe the living inhabitants of the White Sea: mussels, shrimps, sea anemones, starfish, insect larvae and many others. Guests of the laboratory had an opportunity to listen to the stories of marine biologists about marine life and examine everything in great detail through an electron microscope, a picture from which was projected on a large screen.
On the final day of the Moscow Dive Show, I gave a lecture on climate change and melting ice in the Arctic on the main stage; Viktor showed a video about the world's first underwater photo exhibition and talked about our project Until The Ice Melts.