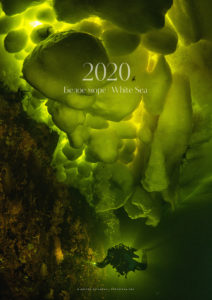 For two years, our team PHOTOTEAM.PRO had been working in the White Sea, filming the life under the ice. We collected the best underwater shots by Viktor Lyagushkin in a vertical wall calendar.
Comb jellies and skeleton shrimps caprellas, starfish under the northern lights and a bunch of anemones, soft corals and sea angels, stalked jellyfish lucernaria and giant cyaneas – the wonders of the northern seas will be with you all next year!
Each copy has an individual number and is personally signed by the author.
Technical Details:
Language of publication: Russian and English
Publication format: 420x600 mm (A2, vertical)
Number of Pages: 14
Coated paper (200 gr)
Gloss Lamination
Color illustration
Spring binding
Age restrictions 0+
Price: 25euro plus shipment (about 17 - 20 euros, 
depends on the destination  country)
Limited edition!
Please feel free to reach out with any further questions or to place an order at info@phototeam.pro